Online quiz All-Russian School Competition on Statistics "Trend" academic year 2017/2018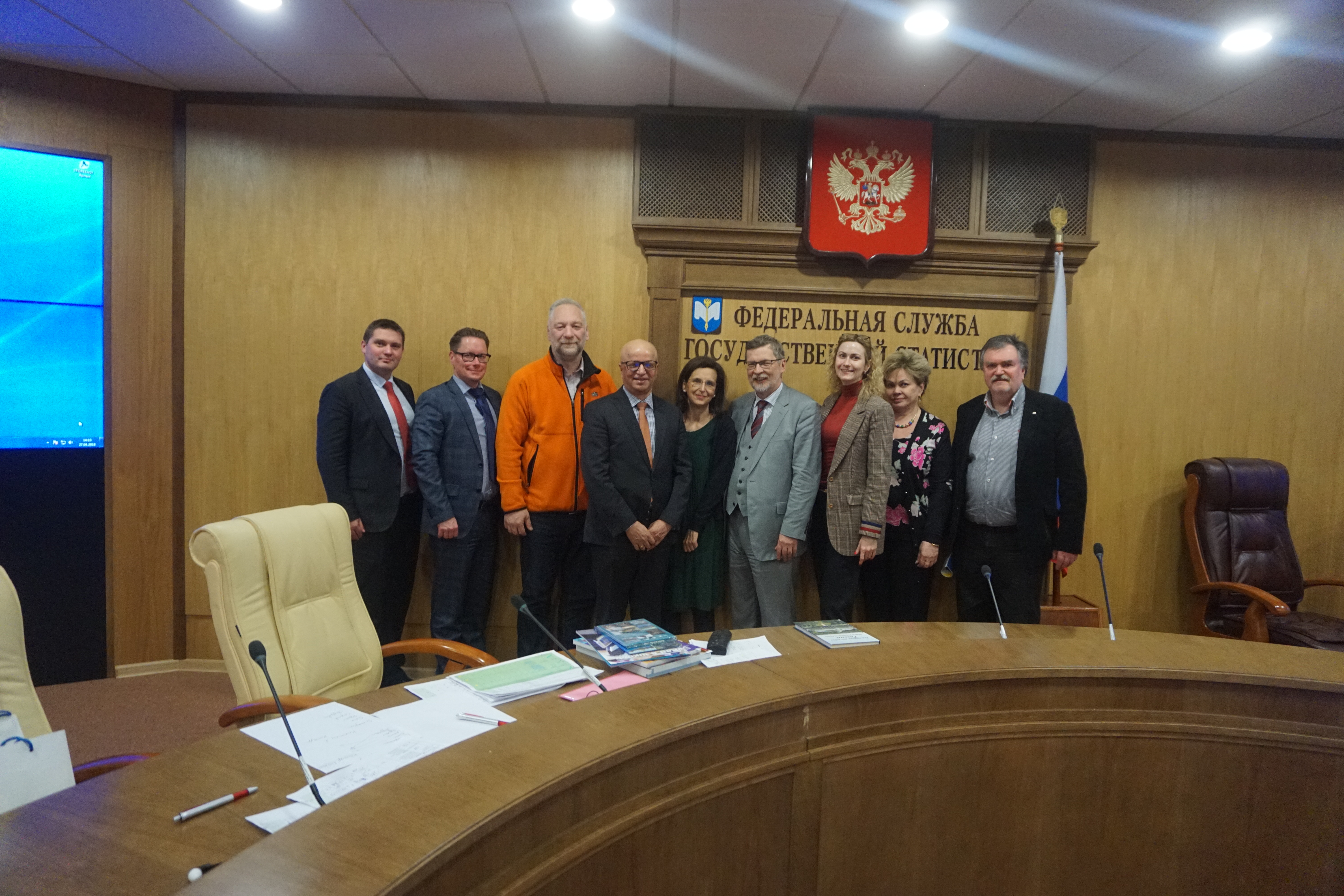 (left to right: Konstantin Tuzov, Sergei Egorenko, Ivan Vysotsky, Shyam Upadhyayya, Maria Jesus, Alexei Ponomarenko, Ekaterina Svirina, Nadezhda Tolstik, Alexander Khoroshilov)
On the 27th of April, 2018 an online quiz of the All-Russian School Competition on Statistics "Trend" was held, the quiz results determined the winners and awardees of the 2017/2018 academic year contest. The quiz was held in the videoconference mode in the Federal State Statistics Service building, in Moscow. 38 schoolchildren from 13 Russian regions took part in the quiz.
The students' answers were assessed by the jury: I.I. Eliseeva, I.R. Vysotsky, V.V. Glinsky, S.N. Egorenko, A.N. Ponomarenko, A.E. Surinov, N.V. Tolstik, K.A. Tuzov, A.V. Horoshilov. A representative of the organizing committee of the Eurostat Statistical Olympiad for Children, Dr. Maria Jesus, was invited to participate in the work of the jury. The chief UN statistician on industrial development (UNIDO), Mr. Shyam Upadhyaya, attended the quiz as an honored guest.
The quiz participants answered questions related to statistical theory and practice. You can find the quiz questions here
Pan-Russian school competition Trend is part of the large-scale work of the Russian Association of Statisticians on the development of statistical literacy in the country. According to participants, the first experience was successful. It was not just a competition - it was the beginning of the joint work and friendship of professional statisticians and students. In this respect, the words of the Deputy Head of the Federal State Statistics Service, Mr. Yegorenko S.N. were symbolic, in his speech, addressing the participants of the online quiz, he said that in the future he would be happy to hire them to work in the state statistics of Russia.
We thank everyone who took an active part in the organization of the Pan-Russian school competition on statistics Trend: Danilova A.N. (Omsk), Yegorenko S.N. (Moscow), Eliseev I.I. (St. Petersburg), Neradovskaya Y.V. (St. Petersburg), Serga L.K. (Novosibirsk), Shmarikhin E.S. (Novosibirsk), Ponomarenko E.N. (Moscow). Also, we would like to thank Dmitry Monakhov (Information Resources and Technologies Department, Rosstat) and Olga Ryazanovskaya (Administration, Rosstat), who with great responsibility contributed to the organization and conduct of the online quiz.
Interviews with the winners and awardees of the contest are currently being prepared, they will be posted on our website soon.